In a recently posted video on his social media, Conor McGregor was seen teaching his son how to punch, and the clip has left the fans in awe.
While most of his posts online are rather antagonistic and garner a lot of hate, the wholesome video where the former UFC champion was simply sharing his love of combat sports with his son has been met with a positive reception. He captioned the video by saying:
"Everyday better. If I am tasty shots my son is gorgeous shots. Conor McGregor Junior your shots are just gorgeous to watch! If you wish to do it, you will do it easily."
It's safe to say that 'The Notorious' believes his son could potentially make it in the world of combat sports if he wanted to. Fans the post with their reactions, with many hilariously suggesting that Conor McGregor Jr. could beat Jake Paul in a boxing fight.
Take a look at some of the reactions below:
"Bro it's the ultimate revenge. 38 year old Jake Paul vs 20 year old Conor McGregor how the tables have turned…"
"This kid beats Jake Paul"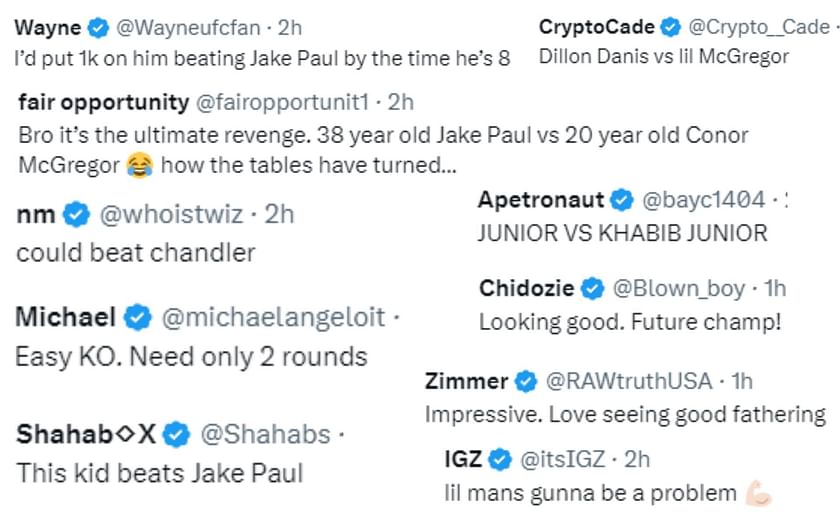 ---
Conor McGregor reacts to Jake Paul vs. Nate Diaz
Social media star turned boxer Jake Paul made his return to the boxing ring this past weekend against former UFC superstar Nate Diaz. In what was Diaz's pro-boxing debut, Paul won the fight via a unanimous decision and extended his professional record to 7-1.
Despite winning the bout, Jake Paul was criticized for not being able to finish Nate Diaz and for taking a lot of shots from somebody who was boxing for the first time. Interestingly, the same seems to be the sentiment from McGregor.
'The Notorious' was certainly not impressed with the fight and thought it was "garbage." While expressing his desire to piece up Nate Diaz in a potential trilogy between the two, McGregor had this to say in a now-deleted tweet:
"I'm gonna serve up your liver on a sandwich in the trilogy m8. Out straight. I won't even hit ur face. That was abysmal last night. Paul is a retard. Absolute garbage he is. Moving backwards like I was watching a fight in rewind. Holy garbage. Embarrassing stuff all round IMO. #piss"
Edited by Siddharth Satish