Adrien Broner recently received an unorthodox request over his Instagram DMs. A female fan, whose name wasn't revealed, asked Broner for $2,000 to pay her tuition fees so that she could graduate this year without dropping classes.
Broner did not mince any in turning down the offer citing the complete lack of any relation with the girl. The former world champion wrote on Instagram DMs which he revealed via screenshots:
"Have I ever seen you or been with you before? How you think I'm posed to give up my hard earned money to a stranger you gave me your number over a year ago…I don't mind helping people lil baby but I don't think I can do this…. Smh how much will you need I'm glad you in school but you ain't even my bitch let alone my side bitch this is beyond me!"
Adrien Broner then went on to ask for the woman's CashApp, probably raising her hopes, only to write a prayer for money to be sent.
"Will you bless this young lady Cashap $laajadaa with 2k father god she is just a young lady trying to finish her last Semester father god."
---
Adrien Broner refusing 2k to a fan draws mixed reactions
Although he did not give the female fan $2,000, Adrien Broner did give her some questionable advice. 'The Problem' suggested that giving sexual favors to people you barely know might be beneficial for women in the long run.
Broner's approach to the fan's request drew mixed reactions from fans on Instagram. While some fans slammed the woman for 'begging', a majority of them found Broner's response more problematic. @ismaelcintron_ wrote:
"This ain't or even a bit funny at all brother‼️ You wouldn't want a female in your family spoken to let alone treated like this correct? It's even more disturbing that you would out this young lady on blast on social media embarrassing her in front of millions of people. The same way you reached out to Floyd when you was down looking for help mentally you should have had the same compassion for her! This post is disgusting and I'm disappointed in you!"
Catch more reactions below: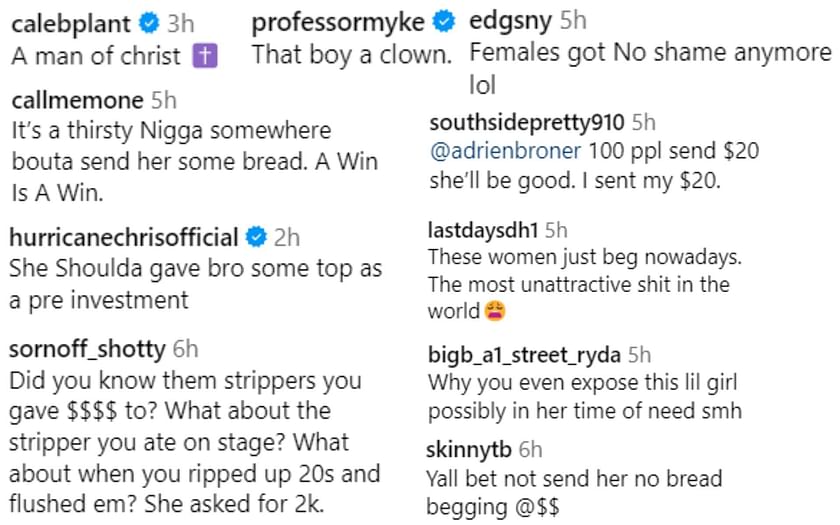 Adrien Broner recently made a return to the ring after a two-year hiatus, earning a dominant decision win over Bill Hutchinson.