Moises Caicedo's adamant preference for Chelsea has thrown a wrench into Liverpool's transfer window plans. According to well-known journalist Fabrizio Romano, the Ecuadorian star has communicated to Brighton and Liverpool that his only desired destination is Chelsea, thus complicating what seemed to be a nearly finalized deal.
A British record transfer fee of £110m had been accepted by Brighton for the 21-year-old Ecuadorian, setting the stage for a monumental deal for the Merseyside club. The Reds' pursuit of Caicedo was not hasty or impulsive. Encouragement from the player's camp, suggesting that Caicedo would willingly don the red jersey if the offer was accepted, reportedly drove the club's efforts.
Wages were deemed not to be a stumbling block, according to Mirror. Although no formal negotiations had occurred, Caicedo's representatives' insinuations reportedly made it seem as though it was a done deal for Liverpool. However, disconcerting signs began to surface, with Caicedo's representatives now insisting that Chelsea remained the favored destination.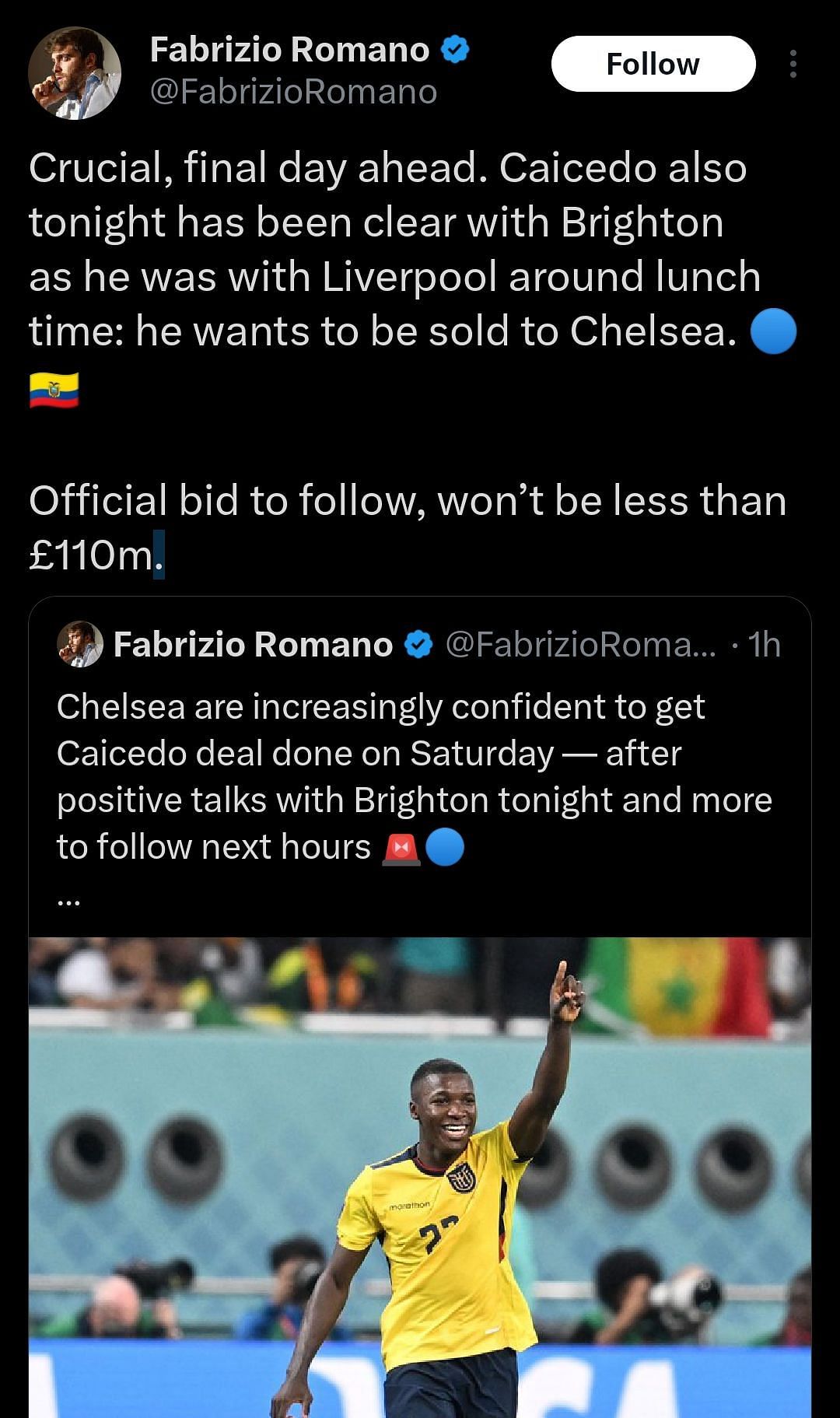 Fabrizio Romano has now revealed a new update, stating on his Twitter account:
"Crucial, final day ahead. Caicedo also tonight has been clear with Brighton as he was with Liverpool around lunch time: he wants to be sold to Chelsea. Official bid to follow, won't be less than £110m."
Whether the Blues will act upon Caicedo's wishes remains to be seen, as questions have been raised about Financial Fair Play rules around Stamford Bridge.
---
Chelsea without front-of-shirt sponsor for Liverpool clash this Sunday
Ahead of their 2023-24 Premier League's curtain-raiser, the Blues will take the field without a front-of-shirt sponsor for their duel with the Reds on Sunday. Tech juggernaut Infinite Athlete is on the brink of fastening an agreement to embellish the famous blue shirts of Chelsea with their logo.
For now, the Stamford Bridge clash against Liverpool will witness the Blues donning a barren chest, bereft of any commercial symbol. According to GOAL, their path to securing a partnership has been strewn with obstacles, initially by Premier League rules and subsequently by fan disapproval.
This curious sequence of events culminated in an unprecedented move: the release of a new kit that was conspicuously devoid of a sponsor's emblem.
Chelsea will look to cast aside last season's tribulations that saw them finish in the midtable, as they face the formidable Merseysiders in Sunday's headline clash.