KT Rolster is ready to take on Hanwha Life Esports in the League of Legends LCK 2023 Summer Playoffs' Lower Bracket Semifinal. Although both sides have qualified for the LCK Regional Finals and can potentially make it to the Worlds 2023, this matchup's loser will get eliminated from the Summer Split. The anticipation for this game is quite high, as its winner is going to face T1 in this event's Lower Bracket Final.
Ahead of this LCK 2023 Summer Playoffs match, let's take a look at the recent statistics and results associated with Hanwha Life Esports and KT Rolster.
---
" class="promoted-img" loading="lazy" width="1440″ height="220″ alt="fortnite-promotional-banner" />

KT Rolster vs. Hanwha Life Esports League of Legends LCK 2023 Summer Playoffs Preview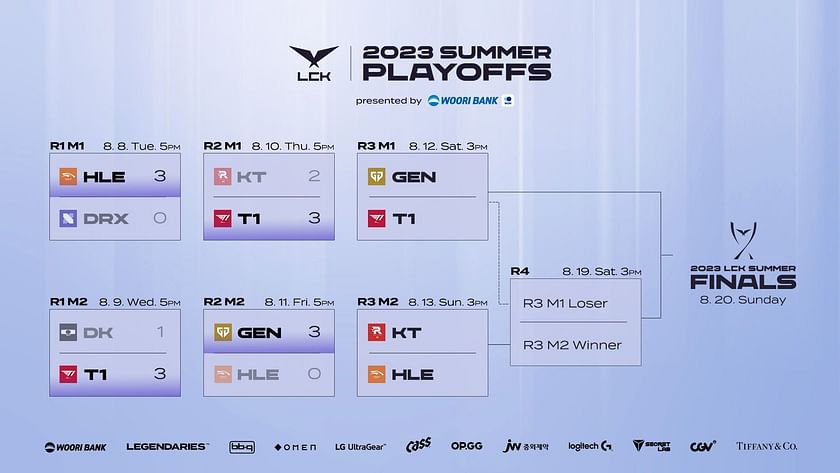 Prediction
Despite having the best LCK run in their organization's history, KT Rolster didn't do well in the second round of this event's Playoffs. As they finished the Split in first place, they had the option to face T1 or Hanwha Life Esports (HLE). Ultimately, they opted for the former, leading them to a devastating 2-3 series loss.
Gen.G Esports had made quick work of HLE in Round 2, which is why some analysts questioned KT's decision to go with T1.
In this game against HLE, KT Rolster is heavily favored. That's mainly because their objective controls and mid-game team fights were impeccable in the Regular Season.
Hanwha Life Esports, on the other hand, saw an underwhelming performance against Gen.G. Although they came close to winning the second game of this best-of-five series, their opposition completely outplayed them at a later stage and eventually won this battle 3-0.
Still, the team's collective talent is undeniable, with flashes of individual brilliance shining through. This formidable team is capable enough to potentially get an upset victory against KT Rolster.
Comparing these teams' recent performances suggests KT will be able to comfortably grab the series 3-1.
---
Head-to-head
KT Rolster and Hanwha Life Esports have played against each other 25 times. The former came out on top 17 times, while the latter only managed to grab eight victories.
---
Previous results
KT Rolster lost 2-3 against T1 in their previous series in the LCK 2023 Summer Playoffs.
Alternatively, Hanwha Life Esports was destroyed by Gen.G Esports with a 0-3 scoreline in the same stage.
---
LCK 2023 Summer Split rosters
KT Rolster
Top: Kiin
Jungle: Cuzz
Mid: Bdd
ADC: Aiming
Support: Lehends
Hanwha Life Esports
Top: Kingen
Jungle: Grizzly
Mid: Zeka
Bottom: Viper
Support: Life
---
Livestream details
The LCK 2023 Summer Split Playoffs matchup of KT Rolster vs. Hanwha Life Esports will be broadcast live on August 12 at 11 pm PT/ August 13 at 11:30 am IST on the official LCK YouTube and Twitch channels.
Poll : Who will be able to advance to the next round?
2 votes
Edited by Soumyadyuti Ghosh