Lionel Messi's ninth goal in six Leagues Cup for Inter Miami games has former MLS forward Herculez Gomez singing the Argentine's praises.
The 36-year-old was on the scoresheet once again to put Miami 2-0 up against Philadelphia Union on Tuesday (August 16) night. The Argentine icon struck a superb long-range strike to continue his rich vein of form in the United States.
Gomez, who was a fine goalscorer himself in the MLS for the likes of LA Galaxy, reckons Lionel Messi is on another level to his peers. He tweeted after Messi scored his ninth Inter goal:
"NINE GOALS FOR MESSI (Messi) 9. Come on. He's on a completely different level than everyone else in this competition."
Philadelphia had conceded just four goals in the 2023 Leagues Cup before the last-four clash with Inter Miami. Messi's creativity posed problems for Jim Curtin's side.
The Argentine weaved his way through the Union's defence to send the Herons on their way to the Leagues Cup final. Josef Martinez had opened the scoring in the third minute with a fine effort of his own.
Lionel Messi's former Barcelona teammate Jordi Alba also grabbed his first goal for Inter in a dominant first half for Gerardo Martino's side. Meanwhile, it has been a dream start to life in the United States for Miami's new No.10.
Messi is wearing a smile that wasn't often seen at his former club Paris Saint-Germain. He's wreaking havoc, which bodes well for the Herons' hopes of winning the Leagues Cup after they beat Philadelphia 4-1 in the last four.
---
Inter Miami boss Gerardo Martino allayed fears regarding Lionel Messi nursing knock ahead of Philadelphia clash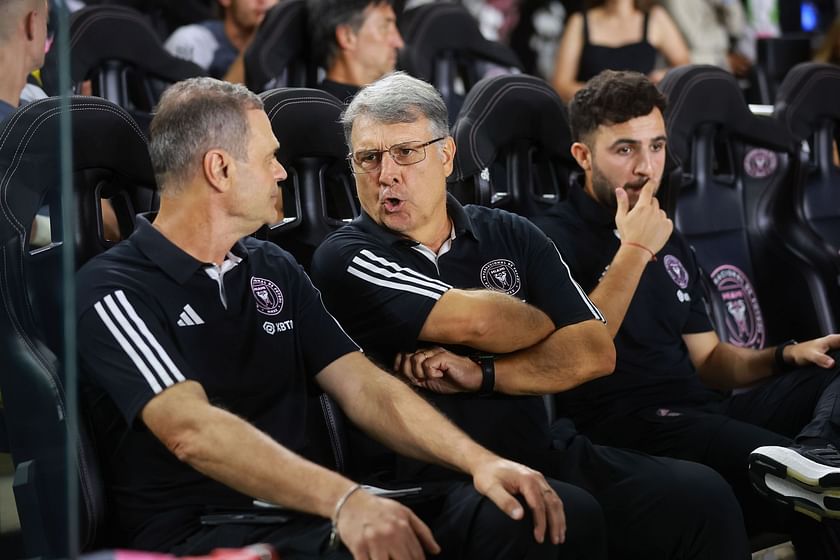 There were fears that Lionel Messi might have picked up an injury ahead of Inter Miami's clash with the Union. However, manager Tata Martino dismissed those fears ahead of the Leagues Cup fixture (via 90min):
"I was only at a part of the session because I had a meeting afterwards and was finishing preparing, so I didn't see exactly what happened. But if it was something serious, I'm sure everyone would have been shocked."
Martino continued by insisting that there was no issue brought to his attention:
"Since everyone was fine, I imagine nothing happened."
Messi fared well for the Herons as he once again left his mark on the Leagues Cup. His goal was a sensational one that left Union goalkeeper Andre Blake astounded.