Alexander Zverev revealed that World No. 1 Carlos Alcaraz gave him tips to defeat Daniil Medvedev at the 2023 Western & Southern Open in Cincinnati on August 17.
Zverev managed to end Medvedev's three-match winning streak in head-to-head duels, beating him for the first time since the 2021 ATP Finals. The German was victorious in three sets, 6-4, 5-7, 6-4, in the third round of the tournament.
Speaking to Tennis Channel's Parkash Amritraj after the match, Zverev revealed that Carlos Alcaraz gave him tips for a gameplan against Medvedev.
"Against him, playing slowly is not a bad tactic. I played golf with Carlos Alcaraz last week in Toronto, he gave me a very good game plan against him, actually! I asked him a few questions, so that was quite helpful," Zverev said with a smile.
Alcaraz can certainly give good advice against Medvedev, as he has defeated the former World No. 1 the last two times they met. He bested the Russian in the final of the 2023 Indian Wells, 6-3, 6-2, and in the semifinal of the 2023 Wimbledon Championships, 6-3, 6-3, 6-3.
Alexander Zverev, who currently sits at the 14th position in the live ATP rankings, gave some more thoughts on the match.
"At the end of the day I did what I had to do, I fought it out, and I'm happy to be sitting here as a winner," the 26-year-old said.
Medvedev still leads the H2H against Zverev with nine victories and seven losses, and the loss won't hurt him too much. Despite losing 270 points, the Russian will remain World No. 3 and the third seed at the upcoming US Open.
---
Alexander Zverev to face Adrian Mannarino in the 2023 Western & Southern Open quarterfinals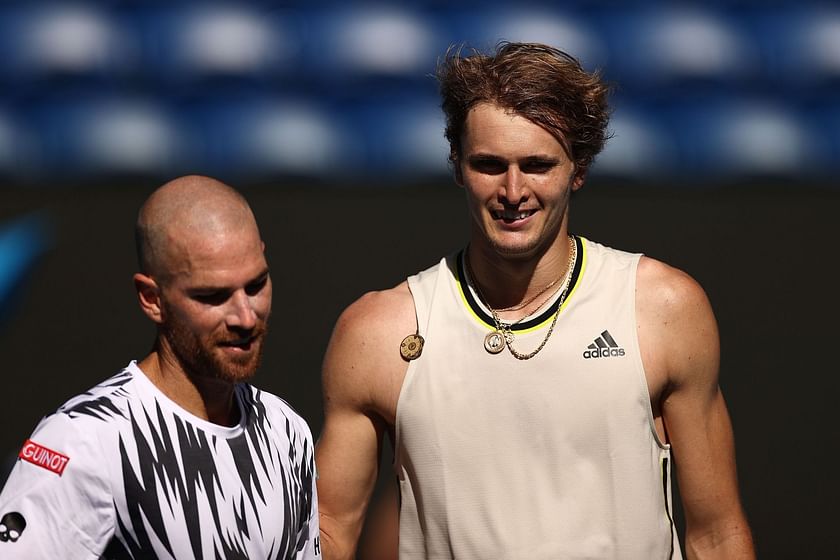 Alexander Zverev will play against Adrian Mannarino in the quarterfinals of the Cincinnati Masters on Friday, August 18.
Zverev defeated Daniil Medvedev 6-4, 5-7, 6-4, to reach the last eight of the tournament, snapping a three-match losing streak against the Russian.
He previously defeated Grigor Dimitrov, 6-2, 6-2, in the first round, and Yoshihito Nishioka, 7-5, 6-4, in the second round.
Meanwhile, Mannarino eliminated Richard Gasquet, 6-4, 6-3, in the first round, Felix Auger-Aliassime, 6-4, 6-4, in the second, and Mackenzie McDonald, 6-4, 3-0 (retired), in the third round.
The duel in Cincinnati will be the eighth head-to-head matchup between the Germand and the Frenchman, with Zverev winning all of the previous encounters. In their last match, Zverev destroyed his opponent, 6-1, 6-0, in the quarterfinals of the 2022 Montpellier Open.