The conclusion of the second day of the Peacekeeper Elite League (PEL) Summer 2023 Finals marked a significant shift as Titan Esports Club (TEC) managed to overthrow Weibo Gaming. Despite a lackluster performance in the league stages, TEC showcased a remarkable turnaround during the finals, accumulating a total of 138 points. On the contrary, Weibo Gaming faced a challenging day, only securing 26 points, resulting in a final tally of 121 points.
LGD's performance remained steady, but it was not enough to maintain their rank on the PEL Finals Day 2. They slid to the third position with a total of 117 points. Meanwhile, Kone and ThunderTalk Gaming retained their fourth and fifth positions, respectively, both having secured 116 points each.
Regrettably, fan-favorites Nova Esports experienced yet another disappointing day, causing them to plummet to the 13th position in the overall standings.

" class="promoted-img" loading="lazy" width="1440″ height="220″ alt="fortnite-promotional-banner" />

---
PEL Summer 2023 Finals Day 2 Overview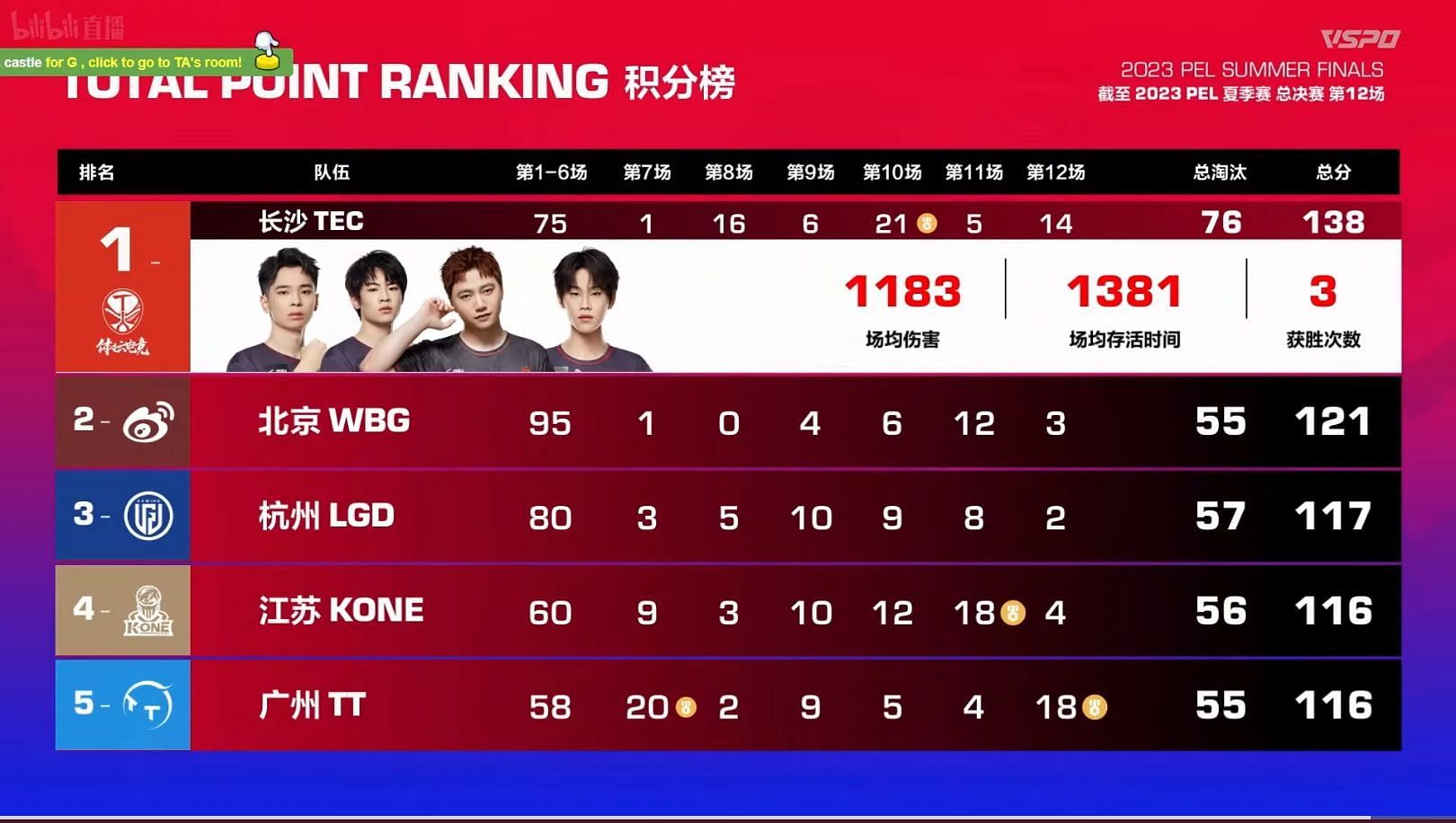 Match 1
Team ThunderTalk Gaming took full advantage of the circle and played on high ridges to come out on top in the first battle of Miramar with 10 eliminations. Wolves Esports secured the second spot, amassing seven frags, while Nova Esports secured the third position with three eliminations.
Match 2
Wolves Esports secured their first chicken dinner of the grand finals by notching 10 frags. Demonstrating a well-rounded gameplay approach, the team concentrated on seamless rotations. TEC accrued a total of 16 points, while TJB gathered 12 points during the match. Wolves 77H stood out as the MVP, securing six eliminations.
Match 3
Employing a passive strategy, Vision Esports clinched a chicken dinner during the third round of the PEL Finals Day 2. However, ShowTime dominated the match with eight frags and topped the match standings. LGD Gaming and Kone both accrued 10 points each in this round.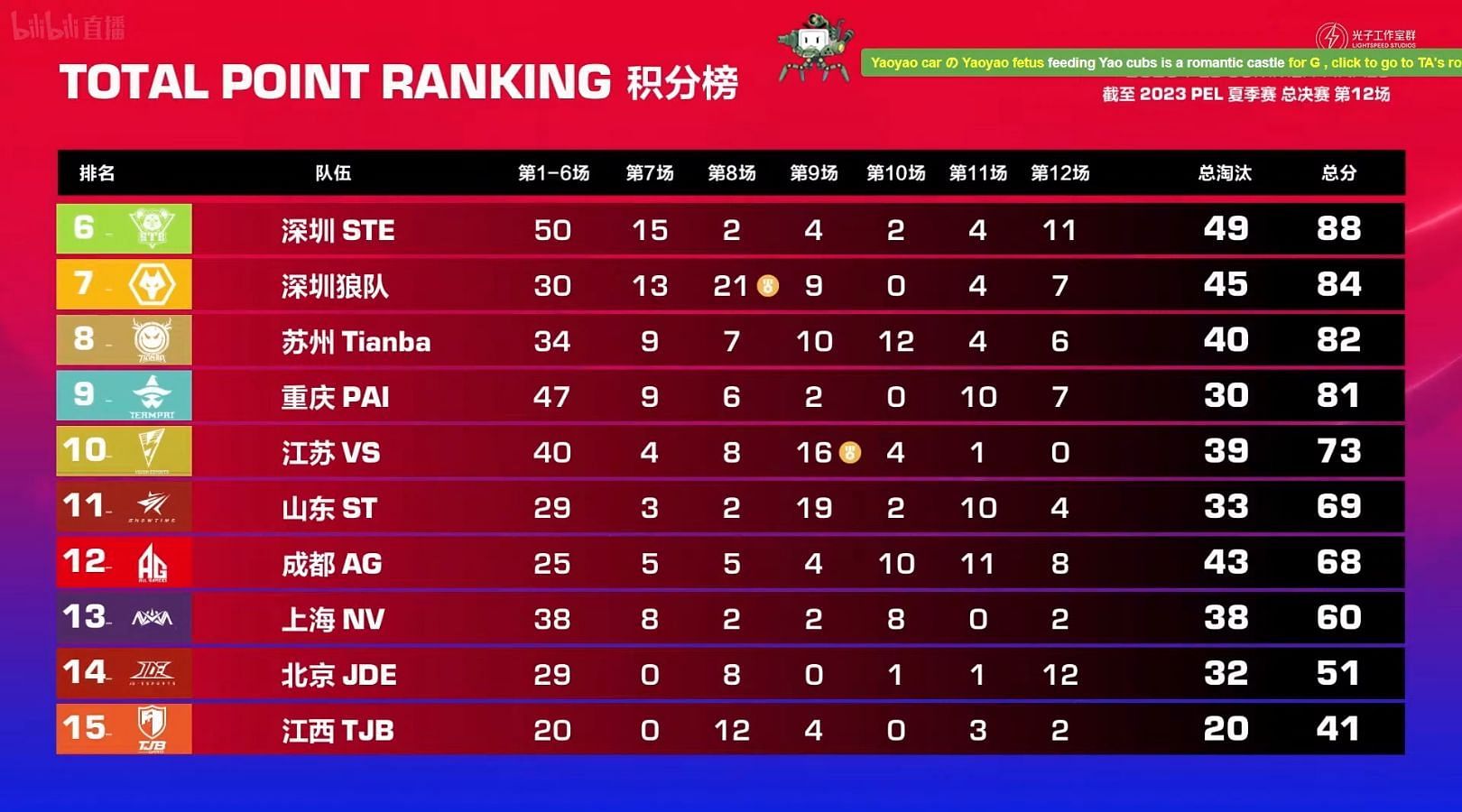 Match 4
TEC performed a 2v3 against Kone to come out on top in the fourth round in Erangel. The confident squad took out 10 enemies to collect 21 points in the match. Kone, with six frags, came second, while it was Tianba that came third.
Match 5
In the fifth match, Kone finally secured a victory with eight frags. The squad displayed clever rotations and minimized unnecessary conflicts to accomplish this triumph. After a series of challenging matches, Weibo Gaming secured the second position with six eliminations. ST Burn's stellar performance earned them the MVP title with six frags.
Match 6
The PEL Finals Day 2 finished with a second chicken dinner for ThunderTalk Gaming on the battlefield of Erangel with eight frags. JD Esports tried their best but settled on second place with six frag points, while TEC took out nine enemies to grab 15 important points.
Edited by Ritoban "Veloxi" Paul