Day 4 of the 2023 CPL edition ended in utter disappointment. It was a day completely dominated by rain as two games that were supposed to be played at the same venue were washed out. The crowd could not see a great deal of live action and had to return home with a sense of abject resentment.
Trinbago Knight Riders could only bat three overs before rain descended in full swing. The ground staff and the match officials worked round the clock to get the ground in shape. But as soon as the second bout of rain started, umpires had no other choice but to call off the game with immediate effect.
The second game of the game between Saint Lucia Kings and Guyana Amazon Warriors also met a similar fate. The game was eventually shortened to five overs per side and Guyana Amazon Warriors were able to complete their first innings with a score of 56/2. But rain commenced again during the innings break which completely finished any possibility of further play on this day.
---
CPL 2023 most runs list – Brandon King leads the runs chart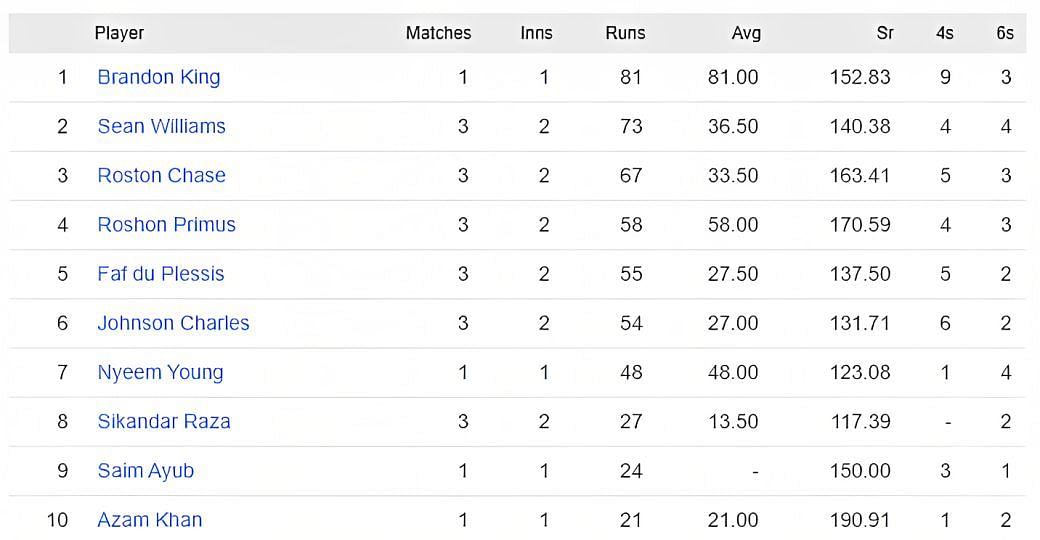 Brandon King has scored the most number of runs so far in the tournament. He has only played one game as of now and made an electrifying 81 against St Lucia which propelled Tallawahs to a crushing victory. His strike rate currently stands at an impressive high of 152.83 with 8 fours and 3 sixes.
Sean Williams ranks second in the runs chart with 73 runs in 2 innings. He averages 36.5 with the bat and possesses a formidable strike rate of 140 with 4 fours and 4 sixes to his name.
Roston Chase is the third one to feature in the list. The spin-bowling all-rounder has amassed 67 runs in 3 games which includes his best score of 53. Besides, he averages 33.5 with the bat and has a monstrous strike rate of around 163.
Roshun Primus ranks fourth in the runs chart with 58 runs under his belt. He averages 58 with the bat and has a killer strike rate of nearly 170. Faf Du Plessis ranks 5th in the runs chart averaging 27.5 after two innings. He has achieved his best score of 46 so far in the tournament, while his strike rate for now is on the lower side hovering around the 137 mark.
---
CPL 2023 most wickets list – Matthew Forde leads the wickets chart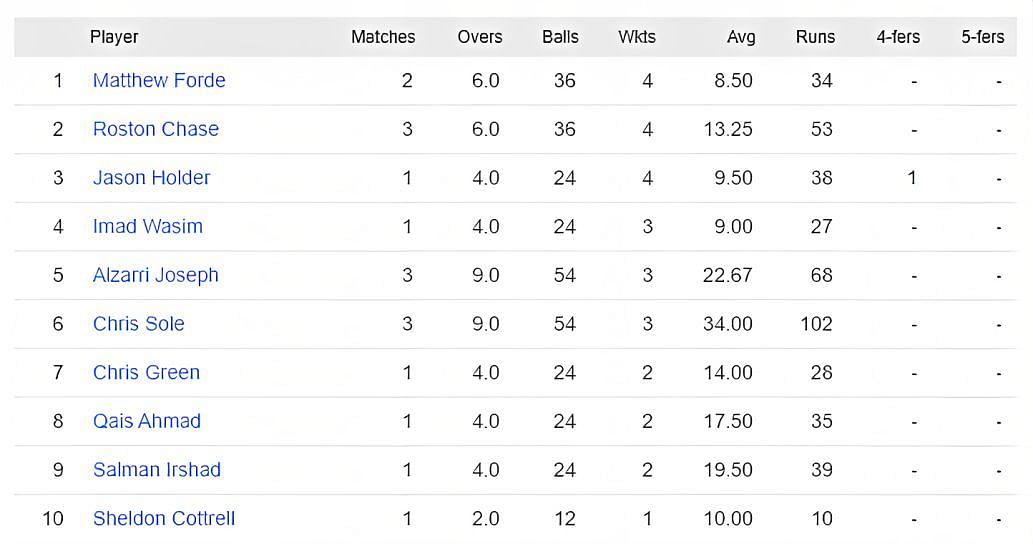 Homegrown hero Matthew Forde has hit the ground running in this year's CPL edition. He has claimed four wickets so far in this tournament at a jaw-dropping average of 8.50 which includes his best figures of 3/12.
Roston Chase and Jason Holder rank second in the wickets column with four wickets each to their tally, with Holder playing two games less than Chase.
Chase averages 13.25 and has a killer strike rate of 9 which includes his best figures of 3/39.
Imad Wasim has only played a game and has picked up 3 wickets at a stunning average of just 9. He currently acquires the fourth spot in the wickets column. Alzarri Joseph is ranked 5th in the wickets column with 3 wickets to his tally. He averages 22.66 and maintains a pretty impressive economy rate of 7.55 RPO.