Fans had mixed reactions after hearing Khabib Nurmagomedov's confusion towards gender-neutral bathrooms.
Nurmagomedov was born and raised in the Russian Soviet Federative Socialist Republic. As a result, the MMA legend sometimes questions Western culture, which can be considered controversial. A video of 'The Eagle' telling a story about gender-neutral bathrooms during a sitdown interview recently went viral. He had this to say:
"First time in my life, couple weeks ago, and I was in California. I was like in a coffee shop. I really want to go to the bathroom. It's like can I go to the bathroom? They told me code, and I'm coming to two bathrooms, all gender, all gender. What is this? Where I have to go? First time I see this. I stay like five seconds. Where is woman? Where is man? I look around, anybody inside? I don't know."
The comment section was filled with various reactions, including anger, humor, and understanding. The following fans made jokes by saying:
"And there was a man in bathroom he smashed him."
"And then he Smesh [Smash] Everybody"
"He smeshed [smashed] the door."
Meanwhile, other fans agreed with Nurmagomedov and believe Western culture can be confusing:
"They don't have to deal with the bulls*it like us soft westerners."
"America ☕️is a joke"
"He lives in a place with logic theres no people who mental illnesses making decisions in his country."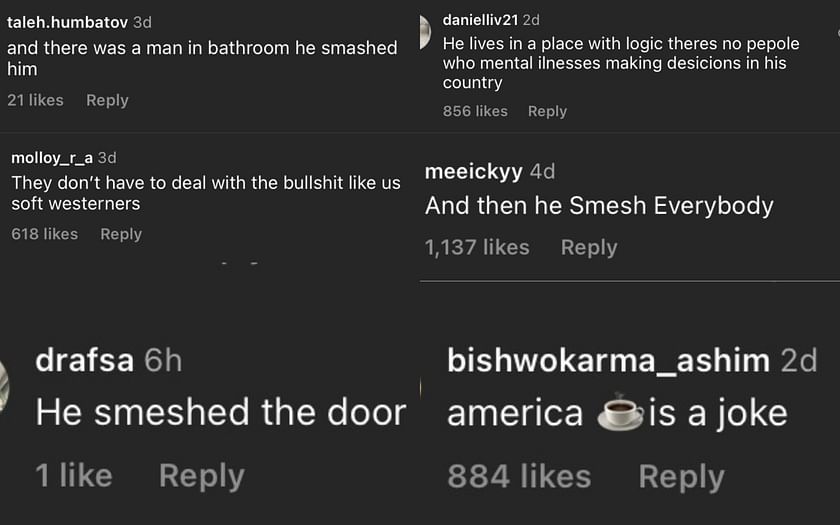 ---
When did Khabib Nurmagomedov retire from MMA?
Khabib Nurmagomedov made his professional MMA debut in 2008. After establishing a record of 16-0, 'The Eagle' fought in the Octagon for the first time in 2012. Nurmagomedov went on to establish himself as one of the greatest fighters of all time.
In October 2020, Nurmagomedov defended his lightweight title by submitting Justin Gaethje in the second round at UFC 254. Shortly after getting his hand raised, he announced his retirement due to the passing of his father, Abdulmanap Nurmagomedov.
Khabib Nurmagomedov retired with a record of 29-0, including 13 wins inside the Octagon. The MMA legend's resume features wins against Rafael dos Anjos, Conor McGregor, Dustin Poirier, Al Iaquinta, and more. 'The Eagle' was staying active by coaching before taking a temporary break to spend time with his family.