Nick Kyrgios rarely shies away from creating controversy with his on-court and off-court behavior. The Australian is currently sidelined due to an injury, but that hasn't stopped him from creating quite a ruckus with his online comments.
The 28-year-old had an impressive 2022 season on the tour. The Australian reached his maiden Grand Slam final last season but lost to Novak Djokovic in the final of Wimbledon. He also reached the quarterfinals of the 2022 US Open and the semifinals of a couple of tournaments. Additionally, he won the Washington Open.
However, he has failed to replicate his decent form this year. Since the beginning of the year, Nick Kyrgios has been struggling with injuries and has played just one match this season, which he lost. He also withdrew himself from all of the Grand Slams of the 2023 season. Recently, the former Wimbledon runner-up reacted to a list posted on social media. The list pointed out how there is only one male player who is in the top 50 of both singles and doubles, whereas there are more than 10 women players who meet the criteria.
Kyrgios, who is currently ranked outside of the top 100 in both singles and doubles. The Australian was ranked as high as 22 and 13 in both the categories last season.
"Funny this stat didn't exist last year when I was playing healthy 😂," he wrote on Twitter.
Tennis fans soon reacted to his comments and expressed their disappointment at the Australian, once again.
"Its not all about youuuuu Nick!"
Fans even commented that no one really cares about Kyrgio and his tennis.
"Cause nobody cares about you, honey."
Fans continued to remind him that not everything on internet is about him.
"not everything is about you Nick. believe it or not."
Below are a few more fan reactions:
Nick Kyrgios won four doubles titles in 2022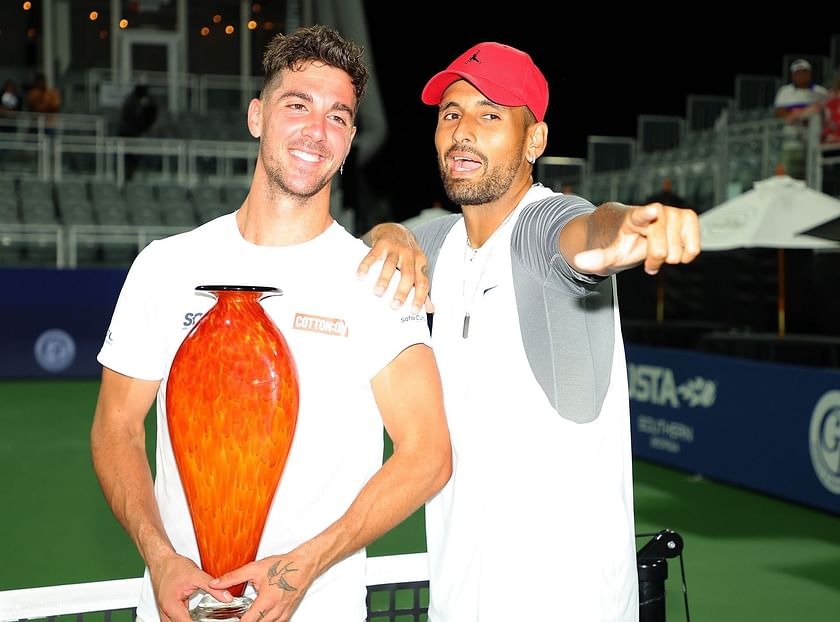 Nick Kyrgios had his best doubles season in 2022, winning four titles, including his maiden Grand Slam title. The Australian kicked off the season with the Australian Open doubles title, partnering up with compatriot Thanasi Kokkinakis. The duo beat the Australian duo of Mathew Ebden and Max Purcell, 7-5, 6-4, in the final to win the Major.
They also reached the semifinals of the Miami Open, but lost to Hubert Hurkacz and John Isner. The Australian duo then reached a couple of quarterfinals at Houston and Stuttgart with Jack Sock and Alexander Bublik, respectively.
Kyrgios and Kokkinakis won their second title in Atlanta and followed it up with their third at Washington. However, in the latter tournament, Nick Kyrgios teamed up Sock to win the title.