Rafael Nadal gave his fans a pinch of happiness as he was spotted picking up a tennis racquet amid his injury, at his tennis academy in Mallorca.
The Spaniard has been undergoing an injury crisis right now and last played at the 2023 Australian Open. The tennis titan enjoyed a very successful 2022 season, which saw him win two Grand Slam titles. However, the veteran has failed to make a mark in the current season due to his early injury.
Since his injury, the southpaw has undergone surgeries and even held a press conference where he shed some light on his return to the tour and future in tennis. In the press conference that he conducted at his tennis academy in May, he hinted that the 2024 season would be his last on the tour.
Recently, a viral video circulated on social media in which Rafael Nadal was seen advising someone on how to hit a few shots. The sight of the Spaniard holding the tennis racquet after so many months certainly gave his fans the joy they were eagerly waiting for.
Tennis fans soon turned to Twitter to express their happiness at the sight. They even stated that they would happily watch the veteran coach someone rather than a live tennis match.
"I'd rather watch this man explain how to hit/coach someone than watch ANY damn match now. Period. When I saw this yesterday, it brought tears to my eyes!" Twitter user Minal tweeted.
Fans also imagined the former World No. 1 to be a tennis coach one day because of his love for tennis:
"It's obvious how much Rafa loves tennis. He isn't even able to play yet, but that's not stopping him from giving other people hitting advice. Wonder what it will take to convince him to coach in the future. The sport will only be better for it."
Tennis fans failed to hide their emotions as they turned to Twitter to talk about the Spaniard picking up the racquet once again:
"It's awesome to see Rafa holding a racket again. It's not much, but it's tiny progress. He's only been doing gym work since the surgery, so hopefully he's back on the courts getting some practice in soon."
Below are a few more fan reactions:
---
Novak Djokovic joins Rafael Nadal and Ivan Lendl in securing the third most wins on ATP Tour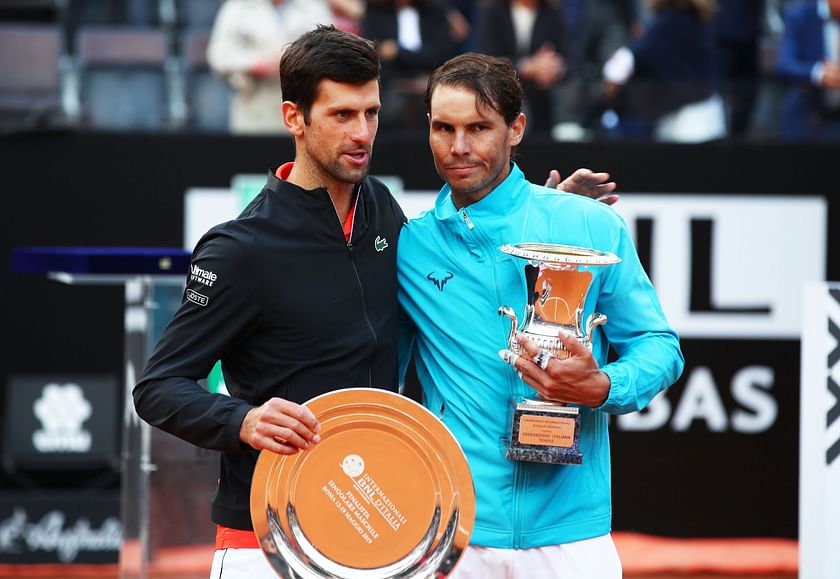 Novak Djokovic has joined his arch-rival Rafael Nadal and former tennis pro Ivan Lendl as the Serb equals them for the third most wins in the Open Era on the ATP Tour.
The World No. 2 beat Alexander Zverev in the semifinals of the 2023 Cincinnati Open, the 1068th win of his career. He is only behind to Jimmy Connors (1274 wins) and Roger Federer (1251 wins). Djokovic will take on Carlos Alcaraz in the final of the tournament.
In his illustrious career of over two decades, Nadal has won 1068 matches while losing just 220. He has also won 92 ATP singles titles, including 22 Grand Slam titles.
What is the foot injury that has troubled Rafael Nadal over the years? Check here