Noah Lyles wept intensely after he attended the national anthem as the new 100m gold medalist at the 2023 World Athletics Championships. The 26-year-old clocked an impressive 9.87s in the semis. However, his timing at the final event left no doubt about the fastest man in the championship.
On Day 2, August 20, the American athlete accomplished the gold medal in the men's final 100m race by clocking an impressive 9.83s, leaving behind second-placed Letsile Tebogo of Botswana and third-place Zharnel Hughes, both crossing the line at 9.88s. It was a photo finish for both athletes. Therefore, the medals were decided by considering the thousandth seconds. For Tebogo, it was 9.873 and for Hughes, it was 9.874.
Noah Lyles was accorded his deserving 100m gold medal at the world championship podium. Surprisingly, a happy Lyles began crying as soon as the American national anthem was played. The video was shared on the official Twitter page of NBC Sports. His competitors, Letsile Tebogo and Zharnel Hughes were seen consoling Lyles in the video.
Noah Lyles could not keep away from commenting on the emotions that he felt at the moment. He wrote in the comment section of the Twitter video:
"Idk what happened. I was watching the flag and all of a sudden I had tears in my eyes. I don't think i realized how much weight I was carrying. This medal definitely means a lot."
In the video, when Lyles was weeping, he explained that he saw the dream to win the gold after Tokyo Olympics in 2021. He was overwhelmed to see his dream come true.
---
Noah Lyles revealed his aim for the 2023 World Athletics Championships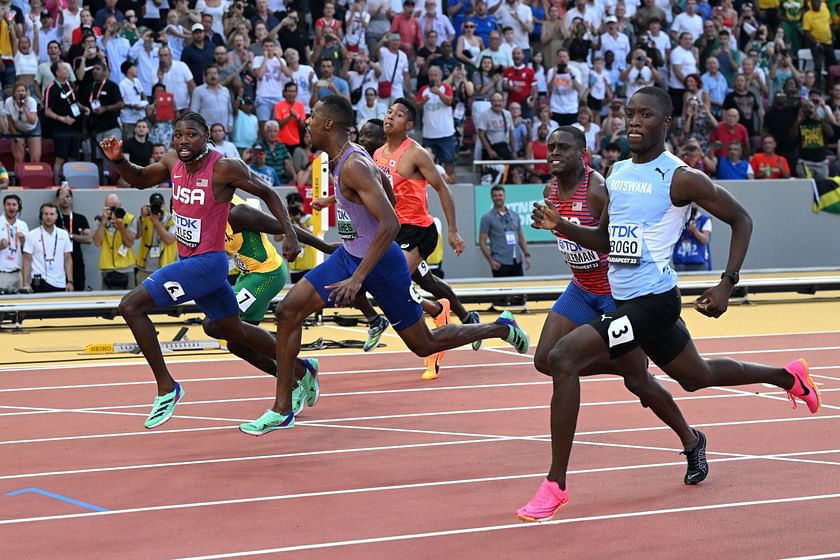 Before the 2023 World Athletics Championships commenced, Lyles revealed his aim at the events. In an interview with NBCSports, he shared that he would be looking to become the third person in history to win three consecutive world 200m titles after Usain Bolt and Allyson Felix.
Furthermore, he stated in the interview:
"What I will accept is grabbing a medal in the 100m, whatever color, and winning the 200m. My greatest aspiration is that I will grab three golds, gain a world record in the 200m."
Presently, Lyles holds a third position in the greatest 200m runners of all time list after Usain Bolt and Yohan Blake. The 26-year-old achieved the milestone after he clocked 19.31s at 200m in 2022 World Athletics Championships.
Moreover, in his Instagram post before the championships, Noah Lyles shared that he aimed to clock 9.65s and 19.10s in the 100m and 200m races, respectively.