WWE ring announcer Samantha Irvin had a hilarious reaction to an upset victory during RAW.
Last night's edition of RAW took place in Quebec City, Canada. Kevin Owens made his triumphant return and got a tremendous reaction from the crowd. He teamed up with Sami Zayn and Cody Rhodes to defeat The Judgment Day in a 6-man tag team match in the main event.
Gunther put his Intercontinental Championship on the line last night against Chad Gable. The Ring General was expecting an easy victory, but that was not the case. The action spilled out of the ring, and Gable connected with a German Suplex that sent the champion tumbling over the barricade. Gable was able to get back into the ring in time and won the match via count-out. However, Gunther is still the Intercontinental Champion.
WWE ring announcer Samantha Irvin watched all the action from the timekeeper's area and got a front-row seat to Gunther getting sent over the barricade.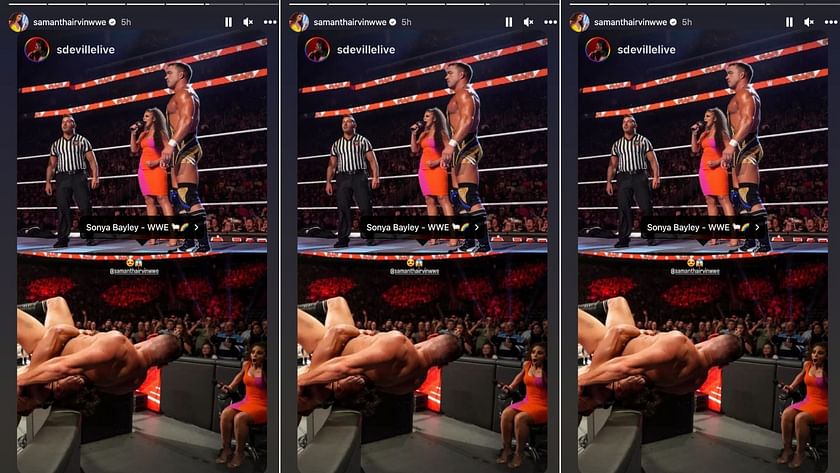 A wrestling fan caught Irvin's reaction after Chad Gable won the match, and Samantha shared it on her Instagram story. In the video, Irvin is in complete shock that Gable won the match before expertly announcing him as the victor.
WWE RAW star Gunther praises Samantha Irvin
Intercontinental Champion Gunther recently complimented Samantha Irvin for adding to his presentation in WWE.
Gunther is on the verge of breaking The Honky Tonk Man's record as the longest-reigning Intercontinental Champion in history. He has established himself as one of the best superstars on the roster and is the leader of the Imperium faction on the red brand.
Speaking to Sonjay Maru ahead of WWE SummerSlam earlier this month, the Austrian star praised Samantha Irvin for her work as a ring announcer and said that she does a great job of finding a unique way to introduce each superstar.
"Oh yeah, of course. I think she [Samantha Irvin] does a great job in general by finding an individual way to introduce each of the competitors. And for us [Imperium], it is very fitting. I think it adds to our presentation too, or for me in that case. So yeah, she's doing a great job," said Gunther. [From 03:40 – 04:00]
Imperium's Ludwig Kaiser vowed to get revenge for Gunther and will be facing Alpha Academy's Chad Gable next week in a singles match. It will be interesting to see if Gable gets another shot at the Intercontinental Championship down the line.
Who is your favorite WWE ring announcer of all time? Sound off in the comments section below.