Bruno Fernandes appears to have heard the noise from the media regarding his incapabilities to captain Manchester United and has fired back with a statement-making Instagram post.
The newly-appointed Red Devils skipper has come under fire from rival fans and pundits regarding his characteristics. Many have slammed him for his perhaps moany behavior and bad temperament.
However, Bruno ernandes, 28, has responded with a bullish post on his Instagram story. He posted a video of Super Bowl winner Deion Saunders hitting out at critics:
"What about me would make me think that I care about your opinion of me? Your opinion of me is not the opinion that I have of myself. You ain't make me so you can't break me."
Bruno Fernandes replaced Harry Maguire as Manchester United captain earlier this summer. He spent most of last season wearing the armband as Maguire was often not selected in Erik ten Hag's starting lineup.
However, Ten Hag's decision to make the Portuguese playmaker the Red Devils' skipper hasn't sat well with some pundits. Former Chelsea midfielder Andy Townsend doesn't think he has the right character for the role. He said:
"Robbo [Bryan Robson], Keano [Roy Keane], these people are proper, they're captains on merit. They automatically get the armband because of the type of characters they are. I don't see that with Bruno at all."
Townsend then praised Fernandes as a talented player but criticized his antics such as flapping his arms around in frustration:
"He's a talented player, yes, of course, but when he starts waving and flapping his arms around and pointing fingers at everybody else, it's a wonder he doesn't get a mouthful from some of his teammates."
Manchester United fans are extremely fond of their Portuguese midfielder as he shows passion for the club. He is a polarizing figure due to his demeanor on the pitch but he is regarded as one of the Premier League's best playmakers.
The Red Devils captain bagged 14 goals and 15 assists in 59 games across competitions last season. Many forget that he also captained his former side Sporting CP before joining the Old Trafford outfit in 2020.
---
Simon Jordan claims Manchester United captain Bruno Fernandes isn't a leader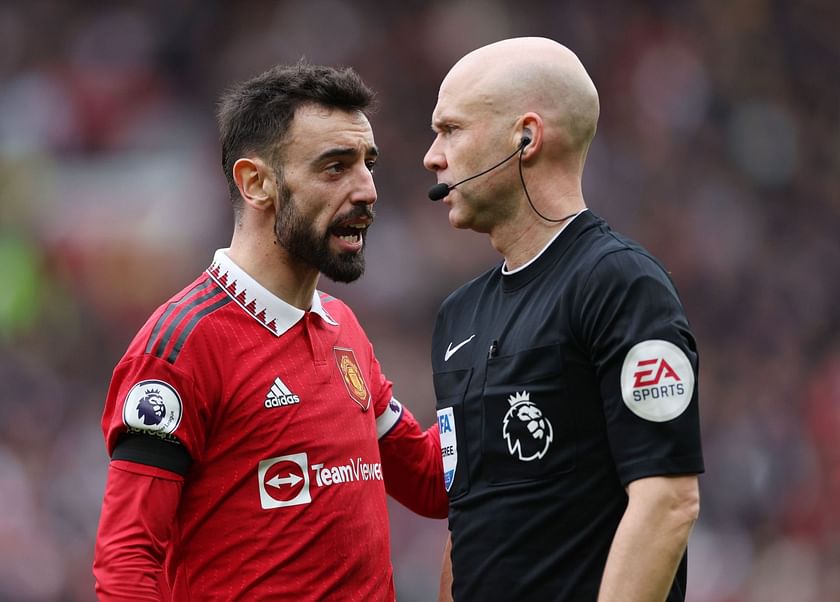 Bruno Fernandes has also received criticism from former Crystal Palace chairman Simon Jordan. The talkSPORT pundit also doesn't reckon the Portugal international suits the captain's role at Old Trafford:
"I think performance-wise, at times, you can look at Bruno Fernandes, as a captain, he goes missing when there are moments of adversity. I don't think he's a leader. I think he's clearly not a leader, and why you'd want him as a leader, I don't know."
This past weekend has seen many pundits take aim at Fernandes as he was part of a Manchester United side that fell to a 2-0 defeat to Tottenham Hotspur. However, it was his post-match interview that rattled most of them.
He made a sarcastic comment regarding Jon Moss potentially visiting his side's dressing room after they were denied a penalty. The PGMOL boss visited Gary O'Neil after Wolverhampton Wanderers were denied a blatant spot-kick following United's 1-0 win in their season opener:
"They made a big thing of it last week. I want to see if they make a show of it like they did last week, also if Jon Moss also comes to our dressing room to apologise."
It's comments such as this that are drawing the ire of those in the media. The new Manchester United skipper will likely continue to draw the wrath of pundits as the season progresses.