Gordon Ryan is receiving plenty of criticism online after his latest Instagram post sparked PED accusations.
The BJJ star posted a photo to his Instagram account that shows him with a noticeably shredded physique as well as a second image that was taken in a gym. Based on his caption, the photo was taken following an intense workout.
He wrote:
"They'll all talk, but when Daddy arrives, silence there will be. Great lift with @hamdan_s_alnahyan @gdelchev and @notheysonnyy today."
Fans immediately aimed at 'The King' as they questioned whether he would look like he does without PED use. Some fans complimented Gordon Ryan on his physique, while others were very critical as they noted that if he will regret taking PEDs in the future due to the long-term effects it can have on his health, writing:
"I need to get back on TRT" [@mojassim80 – Instagram]
"Steroid boy" [@weston.christianson.1 – Instagram]
"Gordon could legit be Mr. Olympia if he wanted to at this point." [@benjaminbylstra – Instagram]
"Roid head with chicken legs." [@professormeatsjiujitsu – Instagram]
"The juice is flowing again. Glad to see it" [@bologna_bob – Instagram]
"This man gains mass like nothing." [@luis_melend – Instagram]
"Later in life you will regret the roids. It's not to late to rethink how you want your future to be." [@jwickles – Instagram]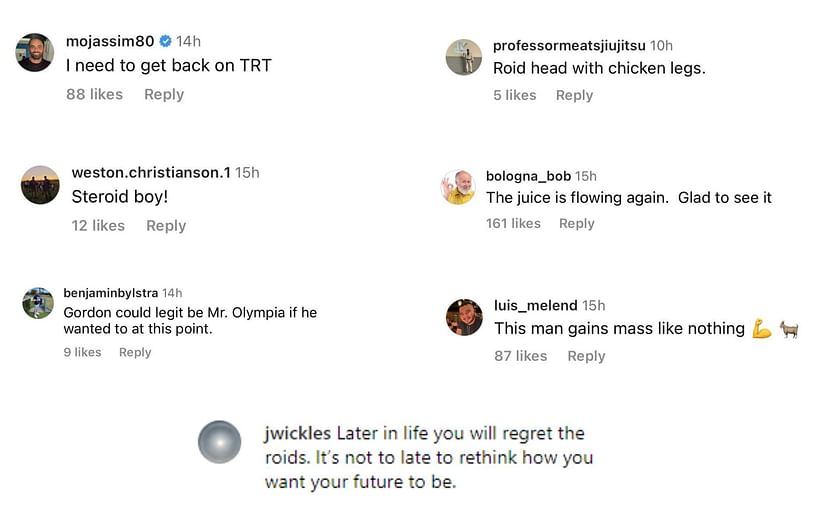 It remains to be seen whether the BJJ star will address the PED accusations if fans continue commenting on his posts insinuating that he is doping.
---
Gordon Ryan celebrates milestone on social media
Gordon Ryan recently celebrated a milestone on social media as he reached 900,000 followers on his Instagram account.
The BJJ star posted a photo of himself with reigning UFC heavyweight champion Jon Jones to celebrate the milestone and included a message to his supporters. He mentioned that he is grateful to his fanbase for their continued support as he continues to grow his following, writing:
"900k of the best fans and supporters in the world"