Moonlight makes a return in Armored Core 6, and while hidden, it's not too difficult to locate. Typically the most powerful melee/blade weapon in any AC game, it's sought after by many players. If you want to add this mighty laser blade to your collection of armaments for your Armored Core, we'll show you exactly where to find it.
It will be found late in the game, in a critical mission, which means if you want to locate it, it's not going to be in a side mission that you could skip.
You may have to wait until Chapter 4 to unlock the Moonlight in Armored Core 6, but it's without a doubt worth going out of your way to pick it up. It will show up right before you battle with the stage's boss, so here's what you need to know.
" class="promoted-img" loading="lazy" width="1440″ height="220″ alt="fortnite-promotional-banner" />

---
Where in Armored Core 6 can you find the Moonlight weapon?
The Moonlight weapon is in the Armored Core 6 Chapter 4 mission, Reach the Coral Convergence. In this mission, you're tasked to track down the Coral supply, and towards the end of it, you can unlock this mighty beam saber.
However, you're going to have to deal with some pretty serious threats before you pick it up. During this stage, you'll see a valley filled with water and a bridge going over it. You'll know you're closing in because you'll have to deal with a bladed mech.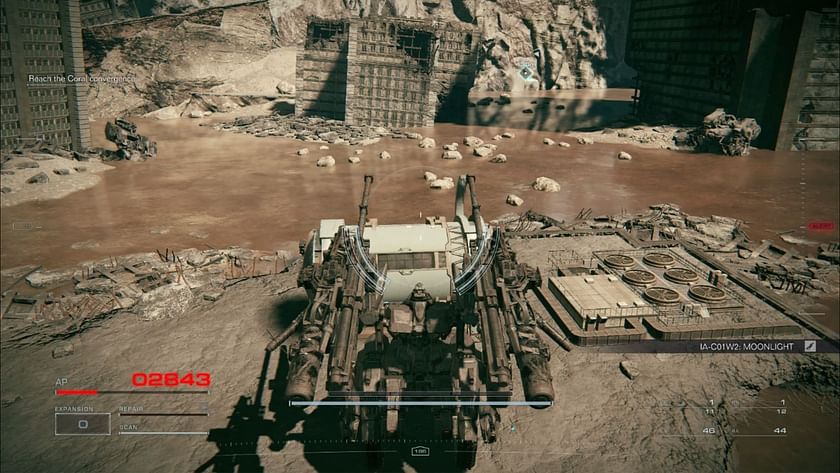 Take it out and continue forward, to where you see the bridge is shattered. You'll also see some of it pointing skyward. Down below, you'll see buildings and quite a few enemy mecha. They appear to be guarding a Storage Container in this Armored Core 6 mission.
It's recommended to batter these enemies with ranged weapons if possible, but deal with them in whatever manner suits you. Your reward, after opening the storage container will be the IA-C01W2: MOONLIGHT.
However, you cannot simply quit out of the mission – you must complete it. Without a doubt, one of the hardest bosses in the game awaits you. Success means you unlock the Moonlight Light Wave Blade.
---
What is the Moonlight weapon in Armored Core 6 and is it worth it?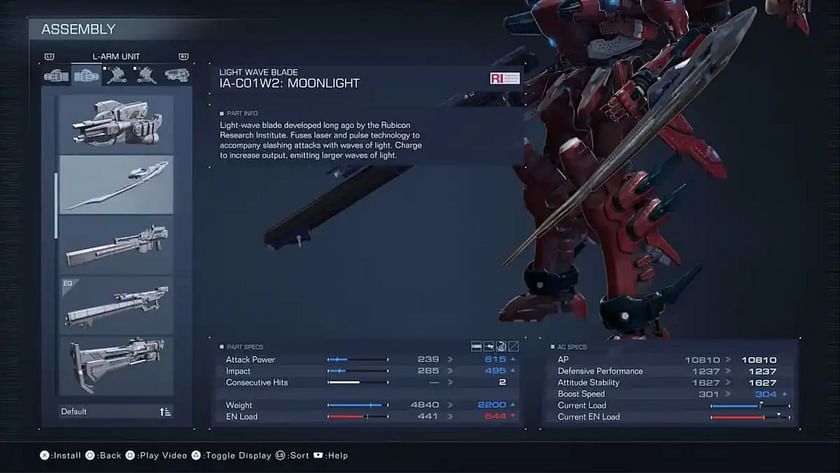 Wave Blade's stats:
Attack Power: 615
Impact: 495
Consecutive Hits: 2
Weight: 2200
EN Load: 544
As a believer in Beam Saber Superiority, the Moonlight is the best weapon in the game. It has incredible damage potential, and thanks to its little pulses of green light, it can hit enemies that normally would be slightly out of range for you. It also has powerful beams of light it can charge up and fire. The Moonlight was not available in my preview session, but I'm glad it's in the game.
While it's not as powerful as some other laser swords in Armored Core 6, it's arguably the best when it comes to utility and usefulness. You just have to beat the hardest boss in the game to get it.
---
The game is now available, on PlayStation 4, PlayStation 5, Xbox One, Xbox Series X/S, and PCs. You can read our in-depth review of Armored Core 6 here.