Bad Bunny joined many WWE Superstars in mourning the unexpected death of Bray Wyatt on Thursday.
The wrestling world was stunned when Triple H broke the news of Wyatt's death at 36. The Eater of Worlds was recovering from a health issue, and there were reports of him getting cleared for a return.
However, Fightful's Sean Ross Sapp has reported that Wyatt suffered a heart attack on Thursday. He dealt with COVID-19 in February, which affected his heart to the point that it was career and life-threatening.
As tributes for Wyatt poured in, Grammy Award-winning artist and part-time WWE Superstar Bad Bunny subtly paid his respects on Instagram. He shared a photo of Wyatt's memorial graphic with a dove on top of it to symbolize peace.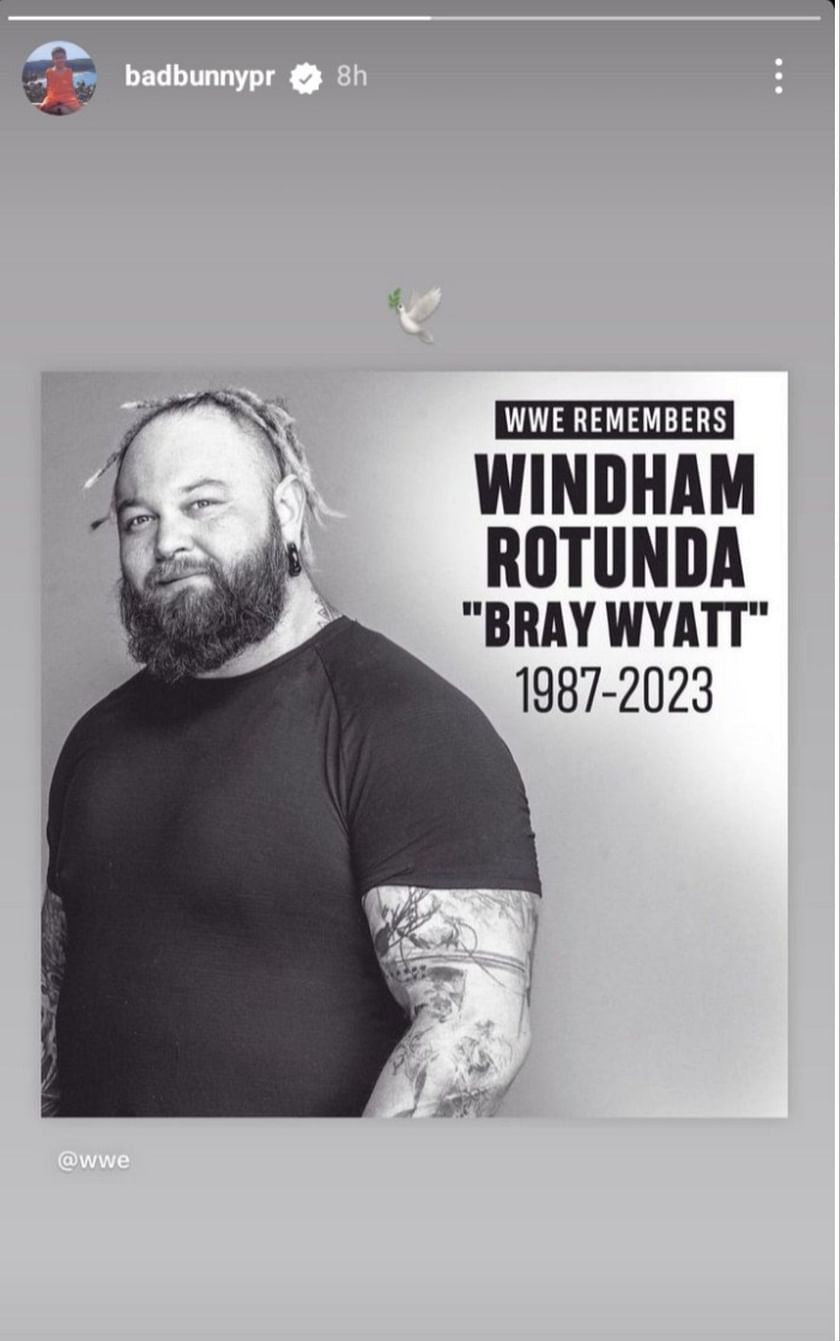 It's unclear if Bad Bunny has ever interacted with Wyatt during his time with WWE. Nevertheless, it was great to see the famous artist acknowledge his death to millions of followers.
---
Other celebrities react to Bray Wyatt's death
Bray Wyatt's creativity didn't go unnoticed by those outside the wrestling business. Some celebrities shared a message following the news of Wyatt's death.
Actor O'Shea Jackson, a huge wrestling fan, was devastated by the news. He thought Wyatt would eventually go to Hollywood and share his genius with more people.
Actress and singer Vanessa Hudgens also paid tribute to the late WWE Superstar on Instagram.
"I'm truly heartbroken to hear this news," Hudgens wrote. "I didn't know him personally but mannnn, I am such a fan. Bray Wyatt was a force. An iconic wrestler that brought so much joy to my dark side. I would get 50000 giddy every time he was on. I've been waiting to see him back on SmackDown and I'm so sad that just won't happen again. Heart. Broken."
Wyatt is survived by his parents, Mike and Stephanie Rotunda, siblings Taylor (Bo Dallas) and Mika Rotunda, partner and former WWE announcer JoJo Offerman, and his four children — daughters Kendyl, Cadyn, and Hyrie, and son Knash.
What's your favorite moment in the career of Bray Wyatt? Share your answers in the comments section below.